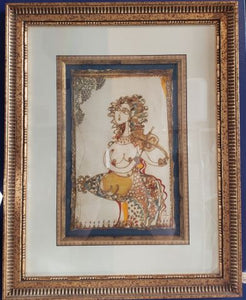 Artist: Eduard Edigarian

Eduard was born in 1943 in the Armenian city of Gjumrit and studied in Gjumrit, the arts facility in Erevan an art institute in the Erevan. From 1970-1974 he was the main set designer in the dramatic theatre in Gjumri, and 1974 was accepted into the artist union in the Soviet Union. In 1987 he was declared a National Artist. Sadly in 1988 nearly all of his works were destroy by an earthquake. His artworks have been displayed in Germany, The Netherlands, Norway, Italy and Belgium and many other countries in Europe. His works can be found in many private collections around the world.

Original Art.
24"X 19.5" 
Patrick's Art Policy applies to this wonderful piece of art. Contact Patrick's for more information.