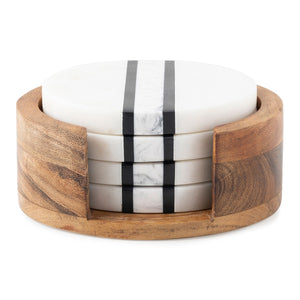 Dimensions: 4.5"W, 2"H
Style number: MS10/390
Overview:
Rich layers of acacia wood and stripes of hand marbled resin are juxtaposed to create the distinct, unique look of our Stonewood Stripe collection. This coaster set features a wood base and four marble coasters that nest inside.
Details:
Measurements: 4.5"W, 2"H
Made of Acacia wood, hand-marbled resin.
Imported
Use & Care:
Not dishwasher, oven, or microwave safe. Hand wash with a gentle detergent, do not use steel wool or scouring pads as they will scratch wood; dry immediately with a soft cloth. Do not soak or leave unwashed overnight. Mineral oil can be used to restore richness of the wood color- apply with a soft cloth, let stand one hour and wipe away excess with a gentle detergent, dry immediately.
Note— as with all marble, wine or rich colored foods may stain the naturally porous material.