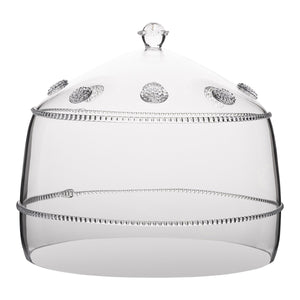 Dimensions: 11"W, 10" H
Style number: B134A/C
Style number: MA305/01
Overview:
From our Isabella Collection - Shelter sweet treats beneath this glass canopy for a chic way to present desserts. Our signature berries complement the fruit of cupcakes as well as grapes alongside a savory offering of cheeses.
Details:
Measurements: 11"W, 10" H
Bohemian Glass is Mouth-Blown in the Czech Republic.
Use & Care:
Dishwasher safe, warm gentle cycle. Hand washing is recommended for large or highly decorated pieces
Not suitable for hot contents, freezer or microwave use.