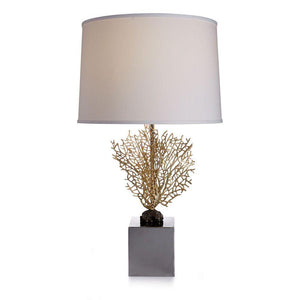 Michael Aram Furniture is handcrafted, with no two pieces ever alike. Each piece in this collection undergoes a series of casting, filing, welding and oxidation techniques. The finish is a result of a specialized patination process. Please note that the variations in texture and color are inherent to the handmade process and enhance the beauty of this piece. Every piece is truly a work of art.
The Michael Aram Furniture Collection is a series of unique decorative objects that celebrate Michael's profound appreciation for intricacies found in nature. Drawing from Aram's background as a sculptor, each piece is a hand crafted interpretation of animal and plant life...infusing an earthly element to any interior space.
"To me, there is something so magical about taking small bits of the outdoor world and creating highly interpretive pieces that fill a room with a lasting sense of organic form and texture. In this collection, I wanted to capture the beautiful shape of this floating flower, while celebrating the spirituality that the lily is known for."
DETAILS & MATERIALS
6"L x 6"W x 28"H
Rectangular Shade 14"L x 10"W x 9"H
100W Max, 110V
Stainless Steel
Natural Brass
Black Nickelplate Aluminum
Fabric Shade
SKU: 411413