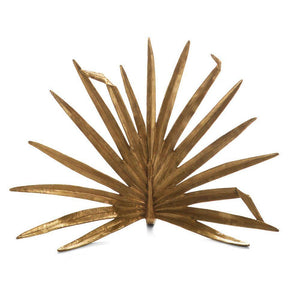 Michael Aram Furniture is handcrafted, with no two pieces ever alike. Each piece in this collection undergoes a series of casting, filing, welding and oxidation techniques. The finish is a result of a specialized patination process. Please note that the variations in texture and color are inherent to the handmade process and enhance the beauty of this piece. Every piece is truly a work of art.

The Palm Collection is inspired by the beauty of a windswept palm tree and the perfectly imperfect shapes of woven palm leaves and fallen fronds. The warm antique gold finish and the intricate sculpted textures exude comfortable luxury and graciousness.

"I was having lunch with friends on a veranda overlooking the sea when I looked down to the lawn and saw a fallen palm frond. The leaves were all twisted and curled, yet it stood out magnificently against the otherwise perfect landscape. It made me think of the passage of time, and the bountiful gifts of the Palm tree, which provides everything from food to shelter."
DETAILS & MATERIALS
36"L X 10"W x 26.5"H
Antique Goldtone Aluminum
SKU: 411608