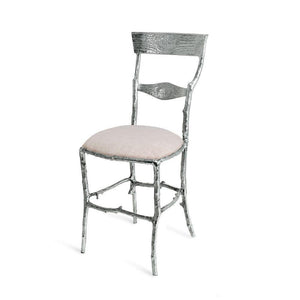 Michael Aram Furniture is handcrafted, with no two pieces ever alike. Each piece in this collection undergoes a series of casting, filing, welding and oxidation techniques. The finish is a result of a specialized patination process. Please note that the variations in texture and color are inherent to the handmade process and enhance the beauty of this piece. Every piece is truly a work of art.

The Enchanted Forest Collection takes its inspiration from the intricacies of form and texture found in foliage from around the world. By interpreting plant forms in cast metal, Michael presents work which is evocative of a natural environment, transformed and redefined. Each piece is an intimate expression of Michael's individual creativity as well as an object of infinite and timeless meaning.

"For me, the shapes conjure a sense of freshness and fragility. At the same time the textures represent a metaphor for life itself...growth, vitality, pulsation. Everybody has an emotional response when they see natural objects. They are part of all of us. What I enjoy about these furniture pieces is that in a way they are 'slices' of nature, small vignettes of the forest. It is fascinating to imagine the outside world infiltrating my interior spaces, as if the room is being gently consumed by nature."
DETAILS & MATERIALS
18"W x 36.75"H
Seat Height 19.5"H
Polished Aluminum
Fabric Upholstery
SKU: 110048