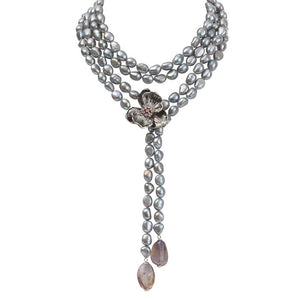 The Orchid Jewelry collection is inspired by the beautiful and sensual orchid flower. One of Aram's most well-known motifs, in jewelry form the orchid takes on a fresh elegance. The intricate details of the orchid flower are expressed in a glittering interplay of metals and precious stones.

"Lush and seductive, the orchid is like a woman in a velvet gown floating through the night, mysterious and luxurious in the afterglow of a beautiful evening."
DETAILS & MATERIALS
Sterling Silver with Black Rhodium
Grey Pearls 9mm
Ametrine Nuggets 23mm
White Diamonds
Necklace Total Length 32"